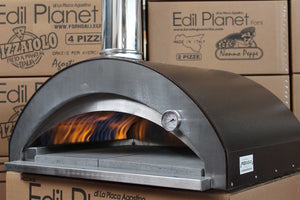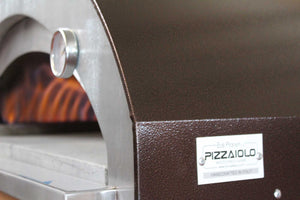 Gas pizza maker oven
Powerful - Fast - Clean 
The Pizzaiolo Gas oven is the most chosen product for pizza catering, combining high performance with limited weight and dimensions, and thus making it suitable for easy movement to private villas or events and festivals.
This product allows you to cook 4 pizzas at a time and thanks to the lava stone hob, it guarantees high performance and constant temperature for several hours of use.
Thanks to the gas you will have the possibility to access events where the use of wood is not allowed, and to have a larger useful surface for baking with the same external dimensions
INNOVATIVE DESIGN : parts in stainless steel and parts treated with powder coating, resistant to high temperatures.

VAULT IN STAINLESS STEEL

 : the vault of the oven entirely in stainless steel allows to reach high temperatures in a few minutes with the use of little gas.

LAVA STONE COOKTOP

 : the hob is made from 2 lava stone slabs from Etna which allows you to maintain the temperature for a long time and ensure professional use.

INSULATION

 : professional insulation to keep the heat inside the cooking chamber for a long time.

THERMOMETER

 : a pyrometer 

is applied to all Edil Planet ovens  

 which indicates the temperature in the combustion chamber, allowing it to be controlled simply and directly.

DOOR

 : the door equipped with a handle that is comfortable to grip, allows you to adjust the draft by easily controlling the fire inside the oven and to heat up the oven more quickly.

READY TO USE : all Edil Planet ovens arrive at home  

ready to be used 

. 
Just insert the flue and you can immediately start baking!!