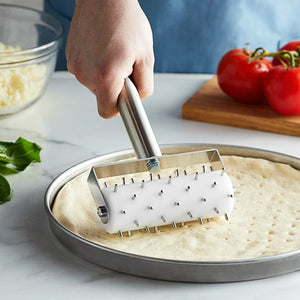 Create quick, consistent punctures in your pizza dough with this American Metalcraft DD5704 5" wide dough docker with aluminum handle. Whenever you're making pizza or flatbreads, it's important to condition your dough for an ideal rise, and this docker has the efficiency to get the job done with ease. It pinches your dough without flattening it so that you can bake pizzas and flatbreads with doughy, well-risen crusts. With stainless steel pins embedded in a plastic core, as well as a durable stainless steel axle, this dough docker is designed to stand up to heavy-duty use in your pizzeria, bakery, or other commercial operation.


Effortlessly roll this docker across your dough to create pinches that prevent the formation of air bubbles and ensure a perfect rise. Rolling is simple thanks to the aluminum handle that keeps your hand comfortable as you work, allowing you to swiftly roll over wide swaths of dough throughout the day. Allow your pizzas to rise to a delectable doughy crust with the help of this dough docker!

Overall Dimensions:
Length: 8"
Width: 5"
Roller Diameter: 1 3/4"
Pin Length: 3/8"
Weight: 1.05 lb.